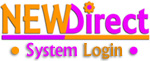 Once you've activated your NEWDirect account with your salesperson, you can use your username & password to browse our system and purchase instantly!
Most orders are still placed via your salesperson for the fastest service, but using the NEWDirect system can help save you money & maximize your profits.

Forgot your username/password? Contact your sales Rep!
Opening an Account
To purchase from New England Wholesale Florist, you must be a florist or related business. We do not sell to the public or "big box stores". Doing either would alienate our customers, and damage our reputation as a small-business friendly wholesaler. New accounts are required to first fill out our customer application and our credit card authorization form (unless paying cash) before purchasing. Tax IDs are necessary, and must match the ID of the purchasing agent.

Payment
For payment we accept all types of credit/debit cards and cash. Personal checks are not accepted.
New accounts are handled as cash/card on delivery only.
Customers with accounts 2 years or older with excellent payment history are considered for net 15/30.

Our Guarantee
If your ever unsatisfied with our product, you may return it within 24 hours of receipt for full purchase price, or we will replace it free of charge. Any issues can be resolved directly with your salesperson for your convenience.